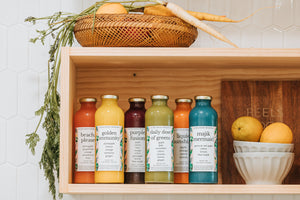 Enjoy the Rainbow!
This bundle includes (6) 14oz cold-pressed juices.  It will include the following: Purple Fusion, Majik Mermaid, Daily Dose of Greens, Golden Immunity, 1 Choice of Orange color (Liquid Sunshine or Beach Please), Sweet Roots.
So many flavors, and you don't have to choose which one to try... Because you get them all!!!
In drop down menu please choose which flavor for the orange you would like!
5 convenient ways to getting your product(s):
Pick up- Aloha Sweet Remedies & Juice Co. -- Friday 9-1pm (FREE)
Pick up- Kaka'ako Farmers Market -- Saturdays 8-12pm (FREE)
Curbside Pick up- Kaka'ako Farmers Market (Ahui Street)-- Saturdays 8-12pm (FREE)
Pick up- Kailua Farmers Market -- Sundays 8-12pm (FREE) 
$15 DOOR TO DOOR DELIVERY
* * * PLEASE ALLOW 48 HOURS FOR YOUR DELIVERY ITEMS TO BE PREPARED * * *
**Warning: This product has not been pasteurized and, therefore, may contain harmful bacteria that can cause some illnesses in children, the elderly, and persons with weakened immune systems.**